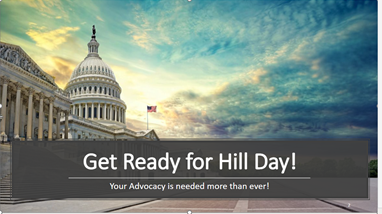 Welcome to Team CA!

We are excited to make another powerful showing at the Hill Day Visits. On this page you will find some resources that will help make your congressional visits seamless. Please do not hesitate to reach out to Elizabeth Holloway with any questions!
We will be coordinating meeting with both Senator Padilla and Feinstein's offices. Please email Elizabeth if you are interested in attending, as we will have limited spots available.
On Thursday September 9th at 4:15pm, we will host a brief prep call to go over any questions you might have about logistics of Hill Day, our national and state talking points (soon to come) or how to structure your meeting.



Below you will find some helpful information to set up your virtual meetings and structure your agenda.
Preparation materials
Handouts
IMPORTANT: Once you have coordinated with the other members from your program,
please choose one person to serve as the primary contact who will fill out this survey regarding your scheduled visits.