Head Start California would like to thank the 2020 Annual Conference planning committee members for their remarkable job selecting the content of workshops for our 2020 Conference which inspired more than one attendee to say that this was the best HSC conference they had attended in years.
2020 Annual Conference Planning Committee Members: Billiejo LaBriola, Elizabeth Solton, Heather Eltringham, Joanne Hubbard, Sandra Gonzales-Pabon, and Christine Feenstra. If you are interested in participating in next year's conference planning committee for our event in Anaheim, please keep an eye out for a solicitation email that will go out this spring.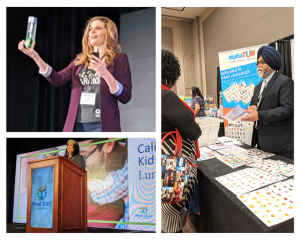 Highlights from this year's events include:
Opening keynote speaker, Marley Jarvis, gave us a deeper understanding of gender bias in mathematics, and how we unconsciously encourage or discourage mathematical thinking in our youngest learners. The Welcome Reception on Monday evening which offered attendees and exhibitors the opportunity to spend more time together on the exhibit floor while eating tasty bites and getting the chance to secure raffle prizes. The Count All Kids Census Luncheon was a big event, with guest speaker Ditas Katague, Director of California Complete Count Census 2020. The presentation focused on the collaboration between Head Start California, First 5 Association of California and the California WIC Association to engage our employees and families in encouraging all families with children aged 0-5 to participate in Census outreach. Spots filled up quickly for the State Capitol tour, a guided walk-through of the capitol building, including the senate and assembly chambers, followed by lunch in the basement-level Eureka room. And finally, the closing keynote with Lyndsay Morris had people moving and laughing. Lyndsay discussed simple wellness practices that both attendees and the children they work with can use to keep grounded and the brain regulated. We were especially fond of the "five finger breathing" technique — some of HSC staff passed these techniques on to their families.
Thank you to everyone who made it to Sacramento for this important time to network and learn. Be sure to mark your calendars for next year's Annual Conference in Orange County, Jan. 25-29, 2021. View more photos