By Lyndsay Morris, M.Ed
There is no greater time to focus on the wellness than right now.
Eighty-three percent of American professionals are stressed out at their jobs. When people are stressed, they are not performing at their best, which dramatically impacts attitude, productivity and retention in schools and organizations around the world.
What would happen if we built a routine of health and happiness habits? How would our lives change if we filled our tanks, so that we could give from our overflow?
The truth is, wellness is far more than health assessments, flashy programs, long lists of healthy foods, and exercise plans. Wellness starts with connection: a connection to self and others.
I'm excited to be joining the Head Start community in California at the Head Start California Annual Conference in Sacramento on Jan. 15.
If you're planning to attend the Head Start California Annual Conference in January, I encourage you to stay for my closing keynote at 12:45 p.m. on Jan. 15. In this fun, interactive presentation, you will learn simple tools to de-stress, so that you and your organization will shift from surviving to thriving. You can register for the Sacramento conference here.
Expect to feel connected to yourself and others. Expect to feel energized and motivated to implement tools that lead to less stress and more success. Expect to feel empowered to change the world, one self-care strategy at a time.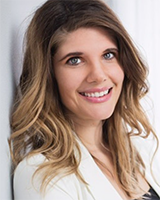 Lyndsay Morris, M.Ed, RYT-200 is on a mission to equip every student and educator in America with the tools to thrive in school and in life. Lyndsay is an international speaker, the creator of the Generation Wellness App, and the founder of Generation Wellness. Her educational background includes a Master of Education in Guidance and School Counseling, combined with numerous certifications in teaching and mindfulness.