Webinars
FREE Webinars ON-DEMAND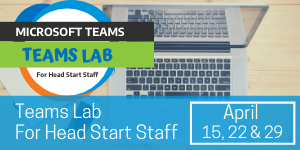 Teams Lab
Are you looking for ways to collaborate better, easier and more effectively with your team without feeling like things are slipping through the cracks?
Here at Head Start California, we've been using Microsoft Teams as a way to connect virtually for almost a year. Come listen, learn and explore Teams with Michael Nelson from TLC Tech and Head Start California's Executive Director Christopher Maricle in a "Teams Lab", demonstrating how to use Team features.
Teams Lab Webinar #1: 
Team Communication 101Learn how to create a team and channel, chat, upload files, and conduct a video call with screen sharing. Watch the recording now. | Certificate of Participation
Teams Lab Webinar #2: 
Collaboration & IntegrationLearn how to integrate your Outlook, Word, SharePoint and other Microsoft apps. Watch the recording now.| Certificate of Participation
Teams Lab Webinar #3: 
Tips, Hacks & SolutionsThe agenda will be driven by your questions, requests and suggestions. Tell us what you want to do in Teams – we'll bring solutions, work-arounds, tricks and cheats. Watch the recording now.  | Certificate of Participation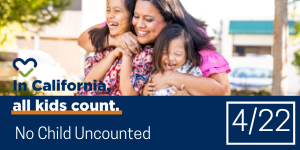 No Child Uncounted: The new timeline for the 2020 Census
This month, our Census trusted messeger training webinars will focus on how COVID-19 has affected census enumeration, the updated timeline for the nonresponse followup period and how families can complete the census while sheltering at home.
We'll prepare you to answer frequently asked questions families may have, de-myth census concerns and provide role-playing techniques to practice conversations with families. All site staff are welcome to attend. Watch the recording now
Webinars On-Demand
With stress and anxiety on the rise, there is no better time than now to focus on wellness. This 2-hour online course equips you and your staff with 20+ tools for less stress and more success.
Head Start California has partnered with Generation Wellness to bring you this course for half price. Register now to learn new strategies and feel empowered during these stressful times. You can begin the course immediately after you register.
LEARN ABOUT
Module 1: Brain/Body Response to Stress/Trauma
Module 2: Emotional First-Aid
Module 3: Self-Care Practices
Module 4: Energy Audit and Scheduling
Module 5: Workplace Wellness
REGISTER
Now only $49 (normally $99) each person for Head Start CA members (Thru July 30)
TERMS + CONDITIONS
You have 30 days to complete this course from the time you enroll. Once you complete this course, you will get access to bonus material and a certificate of completion.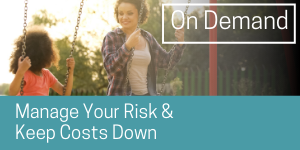 Free Webinar! Watch anytime
Exclusive Insurance Programs for Head Start Members: Manage Your Risk and Keep Costs Down
Learn about exclusive Workers Compensation and Cyber Liability Insurance programs for California's nonprofit Head Start members! Head Start California has teamed up with CalNonprofits and a top insurance company that specializes in Workers Compensation and Cyber Liability for the nonprofit market.
Tune in to hear about:
The discount for Head Start Members
Strong safety and risk management supports
High touch claims supports
Presented by:
Cole Kinney, CalNonprofits Insurance Services; Colleen Lazanich, CalNonprofits Insurance Services; Krissy Kyjovsky, Tangram Insurance Services; Tracy Bernard, Tangram Insurance Services; Ellie Feldman, Wingman Insurance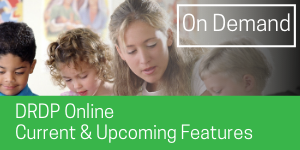 Free Webinar! Watch anytimeThis DRDP tutorial was created by the West Ed, in partnership with the Head Start State Collaboration Office to help answer questions for program and agency administrators on current features as well as those that will be implemented in the near future. Desired Results Development Profile (DRDP) is a web-based cloud application users can access to enter rating information and demographic information.

In this webinar, learn about:
DRDP Online Current Functions
Challenges and Issues
New and Upcoming Functions & Features
Site Walk-through
More Resources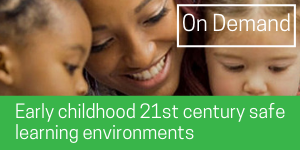 School Specialty and Head Start California are pleased to announce that our exclusive series of on-demand professional development webinars to support early childhood 21st century safe learning environments is now available for viewing!

Topics include:
Social and Emotional Development in Early Childhood Learning Environments
Presented by Tamie Pratt-Fartro, Ph.D., School Specialty Early Childhood Subject Matter Expert
Inclusive Early Childhood Environments for Children with Special Needs
Presented by Cecilia Cruse, M.S., OTR/L, School Specialty Special Needs Subject Matter Expert
Recognizing Indicators of Potential Violence and Mental Health Concerns for Early Childhood Education Professionals
Presented by Peggy Mitchell-Clarke, Ph.D., Certified Executive Instructor and Curriculum Author – Mental Health
STOP The Threat: Safety and Security Best Practices for Early Childhood Centers
Presented by Michael Yorio, President, SSI Guardian
Webinars start at just $89 each. For more pricing information and webinar descriptions, learn more here.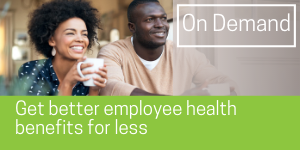 Free webinar! Watch anytime
Nonprofits across California are moving away from the traditional fully-insured model of employee health insurance to control costs and improve health benefit coverage for staff. If you're a nonprofit with more than 50 employees on health benefits, view this FREE webinar now!
Subscription-Based Online Learning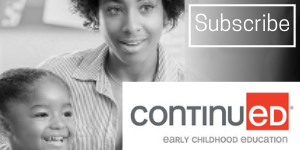 In partnership with Region 9 Head Start Association, Head Start California members now have access at a discounted price to 170+ quality early education courses online at continued.com!

Continued.com offers a deep catalog of online courses to support your agency's continued quality improvement, including the areas of education, family services, health and program administration. Each staff member enrolled has access to over 170+ early education courses.
HSC Signature Events
Online Learning