First 5 Kits for New Parents
Since 2001, First 5 California has distributed the Kit for New Parents free of charge to hospitals, physicians, and community groups to reach and support new parents in the most important job anyone can succeed at—parenting.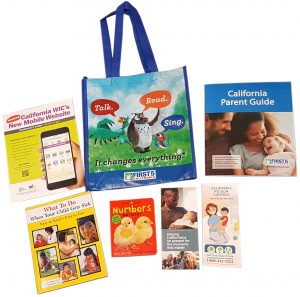 Available in English, Spanish, Chinese, Korean, and Vietnamese, the Kit puts crucial information and resources at the fingertips of first-time parents, grandparents, and caregivers.
The Kit contains a health handbook, a baby board book, a poison control brochure and magnet, and other important information on paid family leave, and literacy and learning.
It also features the Parent Guide, a resource written in collaboration with UC Berkeley's Health Research for Action. The Guide includes tips for parents on keeping their children healthy and safe, developmental milestones, handling emotional and behavioral challenges, and finding quality childcare.
Parents can request a single Kit by visiting First 5 California's ordering portal.
Organizations can place free bulk orders for the kit. To set up an account to do so, send your name, agency/organization name, email address, and phone number to parentkit@ccfc.ca.gov. First 5 California staff will contact you to complete your account setup.
For more information, contact Vernettia Syphax at First 5 California via email or by calling 916.263.1089.