Census data collection & self-response close on Sept. 30
On Aug. 3, 2020, the U.S. Census Bureau announced that it would not be moving forward with its COVID adjusted timeline and instead would continue with an accelerated timeline to deliver apportionment counts to the President by Dec. 31, 2020.
This means that the U.S. Census Bureau will end field data collection by Sept. 30, 2020. Self-response options will also close on that date to permit the commencement of data processing. Because of this accelerated deadline the U.S. Census Bureau also announced plans to hire more employees to ensure a complete count.
There are only five more weeks to ensure that your family is counted in the 2020 Census. Make sure to complete the count as soon as possible. Being counted in the Census is safe and secure. It also ensures that you are properly represented in legislative districts and $800 billion in federal funding both of which are allocated based on the Census.
Since July, Census field workers have started both phone and door to door enumeration, which will continue in the coming weeks. Service based enumeration in targeted shelters, food banks and non-shelter outdoor areas will commence Sept. 22-24. This will include in-person interviews and paper response data collection. If someone visits your home to collect information for the Census, check to make sure they have a valid ID badge with their photograph, a U.S. Department of Commerce watermark and an expiration date. For a phone interview, you can learn more about how to verify the caller here.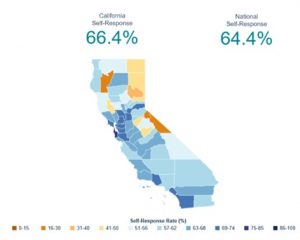 As of the week of Aug. 24, California has reached a 66.4% response rate, which is slightly higher than the national average. However, it is important to note that not all counties have reached such a high rate. Some counties are still as low as 17%, meaning our work is not done. If you have any questions about how to ensure your families and county is counted in the 2020 Census please reach out to Elizabeth Holloway at elizabeth@headstartca.org for more information. Or check out our Census resource page for materials and suggestions.