Policy Principles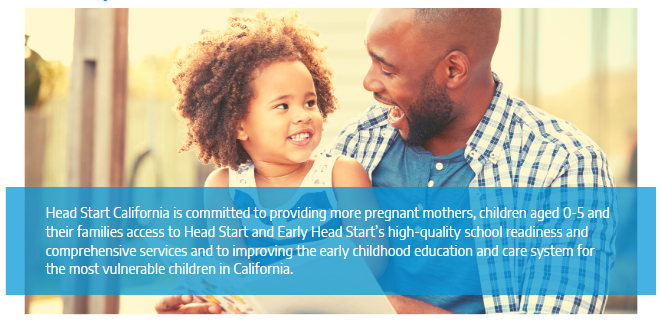 Funding – More children, quality programs, stronger profession.
We support federal and state funding that will allow Head Start to serve more children and families, recruit and retain qualified staff, and invest in data-driven program improvement. We support:
prioritizing and increasing funding for pregnant mothers and children zero to five years of age.
sustaining federal funding for local programming
aligning state funding to layer with federal funding
increasing funding so more children in poverty have access to Head Start's comprehensive services and school readiness program.
Alignment – Balance eligibility, compensation and reimbursement.
We support policy changes that strengthen and align poverty eligibility guidelines, staffing requirements and wages, and reimbursement rates that will attract qualified staff to the field and allow families in or near poverty to qualify for services.
Simplicity – Less is more.
We support policy changes that reduce and simplify regulations that remove unnecessary administrative burdens and free agencies to focus on serving children.
Flexibility – Encourage adaptability and innovation.
We support policy changes that give service providers the flexibility to adapt services and leverage funding to fit local need, and to innovate in designing new services.
2020 State Priorities
1. Ensure Head Start is an active partner in the State's approach to expanding care for pre-school aged children.
2. Broaden and encourage the use of Early Head Start home visiting
3. Funding for child care facilities for infants and toddlers aged 0-3 (AB 452)
4. State investment in Head Start
State Advocacy Resources
Making Ends Meet: How Much Does It Cost to Support a Family in California?
This interactive map created by the California Budget and Policy Center provides income county estimates of the income necessary for housing / utilities, food, child care, health care (employer based), transportation, taxes, and some miscellaneous expenses.
2020 Federal Priorities
Petition congress to provide Head Start with:
1. Funding for the implementation of the revised Head Start Performance Standards.
2. COLA increases to pay staff fair and competitive wages.
3. Funding that earmarks facility improvements and the local level.
Federal Advocacy Resources
Keep Head Start on the Minds of Congress
NHSA offers a guidance on the core activities that will help build a good relationship with your congressional representatives on their website.
Increase CCDBG by $5 billion?
The Center for Law and Social Policy (CLASP) is a national, nonpartisan, nonprofit organization advancing policy solutions for low-income people. Their March 2019 Fact Sheet breaks the benefit of a $5B increase in CCDDBG – 50,000 more children served in California alone.