Compensation and Benefit Study (Free Download)
It takes having the right information to stay competitive in making the best laid plans to recruit and keep great staff and leaders for your program.
Your 2017 Compensation & Benefits Study Findings:
Includes data from more than 70 Head Start programs
Are based on the Office of Head Start "Guide for Conducting a Wage and Fringe Benefits Comparability Survey"
The 2017 Wage and Benefit Study analyzes 53 job categories and is broken out by quartile, reported on a statewide level and by cluster whenever possible. This report is now available to all members at no cost, as a benefit of your 2019-20 paid membership.
The updated version will be released in January 2020. Click to download your free copy of the 2017 edition or get individual sections below.
DOWNLOAD THE FULL REPORT: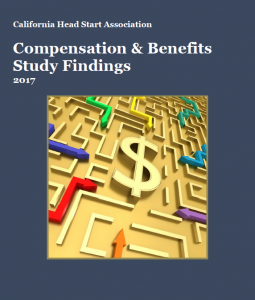 DOWNLOAD BY SECTION:
Next Edition
The Wage and Benefit Study survey was conducted in Fall 2017, and findings were released in January 2018. For the next edition of the Wage and Benefit Study, the survey will be conducted in Fall 2019 and findings will be released in January 2020.