The Census is fast approaching! Your engagement is critical. Our partnership with the First 5 Association of California and the California WIC Association is focused on counting every child aged 0-5 because:
More than a million children were not counted in 2010.
The 2020 census will impact funding and representation for the next decade.
We've developed a simple one-hour training for parents and are already scheduled across the state to inform, inspire, and activate as many parents as we can to help spread the word: Completing the Census is safe, secure and smart.
Here's where we'll be in March:
3/4 Placer County
3/7 Merced County
3/13 Los Angeles County
3/16 Alameda County
3/17 San Diego County
3/19 Orange County
If you can't join an in-person training, catch an upcoming webinar: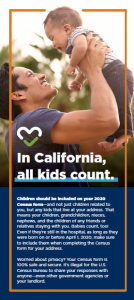 What can your agency do?
Adopt a parking lot! Print palm cards and other materials and place them on cars at faith-based centers, hospitals, recreation centers and parks — anywhere families in your community regular gather. Print-ready resources are available on our website here. Questions? Please Contact Jamie Mauhay.