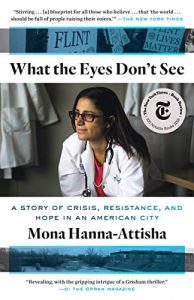 Full Title: What the Eyes Don't See: A Story of Crisis, Resistance, and Hope in an American City
Year: 2018
Author: Mona Hanna -Attisha
Category: Child Development & Health
About the author: Dr. Mona Hanna-Attisha became the director of the pediatric residency program at Hurley Medical Center in Flint, Michigan in 2011. After successfully fighting to return Flint Michigan's water supply to a fresh, safe source, she became the founding donor of the Flint Child Health and Development Fund, and now serves as director of the Michigan State University and Hurley Children's Hospital Pediatric Public Health Initiative.
Quick summary: On August 26, a single question changed Dr. Mona's life: "So, what are you hearing about the Flint water?" This is a compelling, personal account of the 50 days from August 26 to October 16, 2015 that exposed the Flint, Michigan lead-in-water crisis through the eyes of the physician who brought it to light – and became one of Time magazine's 100 most influential people in the world. After reading this book, you will see your water differently.
1. The danger of lead persists. I'm not medically trained. I knew lead was bad, but I didn't know how bad. Hanna-Attisha presents the facts in a way that are not only digestible but give you an appetite. The more I learned, the more interested – and concerned – I became. The risk is greatest to our youngest children.
2. Public Health is everyone's responsibility. We pay taxes that fund government agencies that are tasked with providing and monitoring public safety. But we all have a role to play. Government by and for the people only works best when the people are directly engaged. Voting is the beginning, not the end, of civic engagement. As I finished this book, I happened to receive my local water district's annual report. I read the entire report. Carefully.
3. Heroes are willing to risk. They fuel their passion with relentless courage, and they are willing to accept the consequences of their actions. Mona Hanna-Attisha reveals the persistence and exhaustion that fighting the good fight can demand from heroes.
The gem: Dr. Mona's story places the water crisis against the backdrop of her parents' emigration to America from Iraq, and how their family and culture values contributed to her character as a physician. and shaped her sense of service, justice and unswerving dedication to the children of Flint, Michigan.
Why it matters to Head Start
This story is about three primary qualities: 1) compassion for health and the well-being of children; 2) courage to advocate for what is right; and, 3) persistence to push through difficulty and frustration. All Head Start advocates will find inspiration here.
Submitted by:
Christopher Maricle
Head Start California
What have you read that broadened your thinking, shifted your perspective, or changed your practice? Let your Head Start colleagues know: what's worth reading? Submit your own review here.