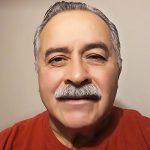 Story submitted by: David
Head Start Mental Health/Social Worker
Sacramento City Unified School District
Thirty-five years ago, I was inspired to influence the education system and help parents because of my great experience with my own daughter's Head Start teacher. I received my Master's in Counseling and became a Mental Health consultant. Since then, I've worked with Head Start parents for almost 25 years. I have seen parents move out of their comfort zones by participating and leading in Policy Council, fatherhood programs, investing in their own education and beginning new careers.
I was a Head Start Mental Health/Social Worker because I believe that through the Head Start program, the most disadvantaged families are asked, "what are your goals and dreams?" and then given opportunities and supports to help make those dreams come true. It's rare to see an agency that provides these first opportunities or even says "let's try again" to families who face the most dire social and economic challenges. I have grown so much as a Mental Health/Social Worker through Head Start by the training opportunities they have provided me, and then in turn, I have provided to families.
Head Start is the true and remaining warrior against poverty. I wish Martin Luther King, Jr. could have seen what Head Start has done to fight what he thought was the true injustice in America. Head Start is what his dream would look like. We must grow and lead as a national program and continue to expand services to families along with our educational strides. Thank you, Head Start, for changing my life.