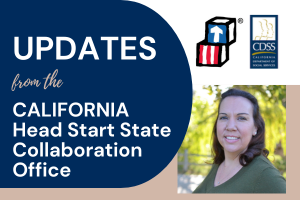 Happy September! I hope those who have started the new school year have had great success. I am excited to see what the new program year brings to the children, families, and workforce of California Head Start-funded programs. Please let me know if you have any questions, concerns, or would like to connect.
Staffing Update
It is with mixed emotions that I share that Desirae Carrera is no longer with the CHSSCO. She has been a tremendous support in the work and will be missed in this role, however, she won't be far! She has accepted the position of Staff Services Manager I of the Preschool Development Grant (PDG) Unit. She will serve as lead and coordinate programs critical to the Agency management of the PDG — a federal grant that supports system improvement across early care and learning programs in California. It is an exciting opportunity for the CHSSCO to continue to participate in the work of various federal and state systems initiative with her overseeing this work and I am excited to work with her in this capacity.
Events, Activities and Workgroups:

The month of August has been a busy month. In alignment with the priorities of the CHSSCO, I have attended many community events and have made many connections to those who are providing a variety of services throughout California. Here is a summary of a select few activities:
National Head Start California Collaboration Directors Meeting
During this meeting, collaboration directors across the nation had discussions specific to elevating the role of the Head Start State Collaboration Offices at the local, state, and federal levels. We also had an opportunity to meet with the OHS Director Khari Garvin to brainstorm ways to support local Head Start-funded programs in alignment with the new National Head Start Priorities.
Cluster II/III and VI  Meetings
The Cluster II/III meeting was held the day before the Black Boys film screening event. During this meeting, OHS Director Khari Garvin presented on the new National Head Start priorities and conducted a question and answer session. The Cluster VI meeting was a great conversation, and as a result, the CHSSCO is researching resources for families throughout the state for pest management services. Additional information is forthcoming.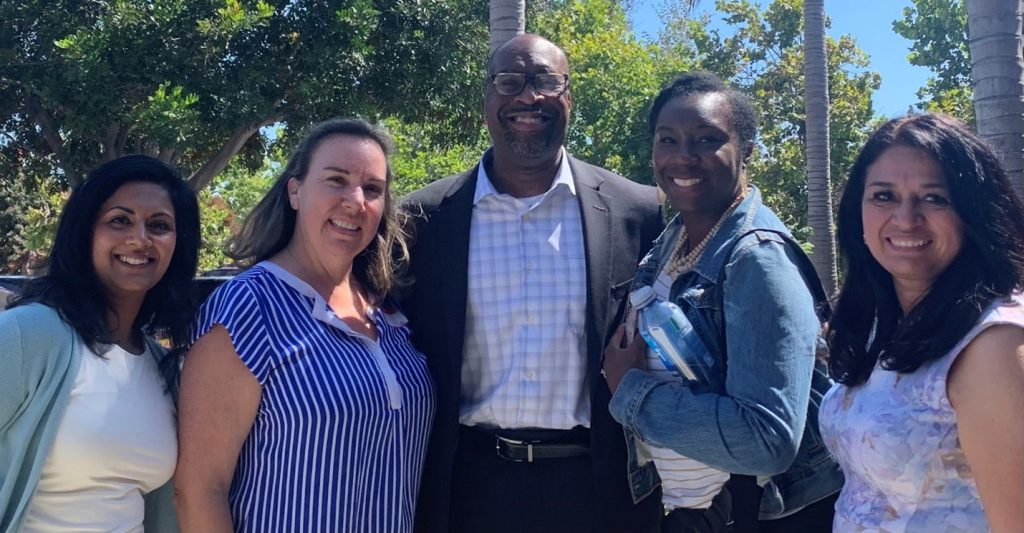 Black Boys Film Screening
This event brought together many local Head Start programs as well as state partners (Child Care and Development Division, Early Education Division, Community Care Licensing, etc.) to participate in a documentary film screening, panel discussion and workshops. The focus of this event was supporting the School Readiness and Success of Young African American Boys (SRSYAAB) strategy guide for use Head Start programs. Sessions covered areas related to promotion of social and emotional development, father/male engagement, building relationships, strengthening home-program partnerships, creating a play-based, active learning environment, and communicating high expectations for learning.
Tribal Child Care Association of California (TCCAC) Roundtable
The Tribal Child Care Association (TCCAC) is comprised of individuals who work for tribal lead agencies/grantees administering the Child Care and Development Block Grant (CCDF)and/or other Tribal child development programs. The TCCAC has joined together to provide professional support and technical assistance to tribes with child care programs and to unify tribal voices to educate tribal, federal, state and local governments and agencies as to the strength and existence of tribal child care programs. The TCCAC Roundtable was an additional opportunity to make connections and engage with various programs.
State Workgroups
I have provided links to the websites for additional workgroups I have participated in, where you can find more information on public meeting dates and materials. For questions or concerns, please email me. I'm open to discussions to address any issues.
Universal Prekindergarten (UPK) Mixed Delivery Quality and Access Workgroup. The statutory requirements of this work group are to provide recommendations on (1) best practices for increasing access to high-quality universal preschool programs for three- and four-year-old children offered through a mixed-delivery model that provides equitable learning experiences across a variety of settings. (2) update preschool standards pursuant to EC Section 8203 to support equitable access to high-quality preschool and transitional kindergarten programs through the mixed-delivery model and across all appropriate settings and funding sources, and (3) ensure that recommendations are in alignment with the work of the Master Plan for Early Learning and Care, without recommending new system changes that create increased state or local costs to offer preschool across the mixed-delivery system. Information can be found here. Meeting materials can be found here.
Under the REPORT DEVELOPMENT DOCUMENTS section, the workgroup will be posting documents for public comment and review. This website also provides extensive research documents on the topics the workgroup has explored to meet the statutory requirements.
State Liaison for the Child Development Permit Workgroup with CTC
See the CDP Workgroup article here.