Census 2020: Make Sure Every Child is Counted
Census Day is April 1, 2020, just four months away. We are ramping up our efforts to make sure that children under age 5 won't face the same rate of undercount they did in the last census. The 2010 Census missed close to 1 million young children — costing over a billion dollars each year in federal funding for these and other vital social programs — including Head Start. Head Start California has partnered with the First 5 Association and the California WIC Association to ensure all children are represented.
Our outreach strategies include empowering and educating trusted messengers in our communities and families to the implications of a high undercount among young children. Help us get the word out by joining our webinar on Tuesday, Dec. 17 to learn how you can participate in local 2020 Census outreach. Head Start California will be hosting this webinar to go over our current census strategy and the importance of getting involved. Register for the webinar here.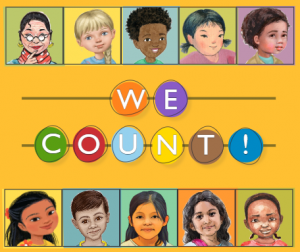 We've also partnered with Lisa Bernstein, author of "We Count!," a colorfully illustrated counting book that is designed to be given to families by their childcare provider, teacher or healthcare provider, and then read aloud together. Through this book, children learn how to count, and adults learn why and how to ensure each one of us is counted — in the census and our democracy. 
Each of the illustrations of families in the "We Count!" book is drawn by an artist that represents that cultural heritage — from West African to Italian to Bengali. The book is available in many languages and serves as the cornerstone of a diverse, inclusive community census campaign. Click here for more information about the book, and stay tuned for updates from us regarding how to get copies of this incredible resources for your communities.
For more information regarding the 2020 Census, head to our website. If you have any questions regarding the census and how you can get involved, please contact Jamie Mauhay.