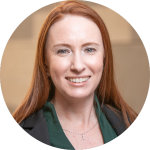 Head Start California is pleased to introduce Melanee Cottrill as our new Executive Director. With her exceptional qualifications, over 15 years of experience in association leadership, along with several years handling state advocacy efforts and fund development, Melanee has emerged as the perfect choice to lead our association forward.
Melanee brings a wealth of experience to her new position, having served as Executive Director of a 2,000-member statewide association, the California Association of School Psychologists (CASP). Her exceptional leadership skills in the nonprofit sector, penchant for continuous improvement and passion for advocacy make her an invaluable addition to our team. A Certified Association Executive (CAE) with the American Society of Association Executives, she also holds a Master's of Business Administration from California State University, Stanislaus.
We feel incredibly fortunate to have someone of Melanee's caliber joining us at Head Start California. HSC Board President, Jodie Keller, expressed her satisfaction with the appointment, stating, "We are pleased to have someone with such an impressive background and a deep understanding of association leadership. Melanee's expertise in strategic planning and improving efficiencies will be invaluable in leading the association's small but mighty team."
Melanee understands firsthand the challenges that families endure and recognizes the transformative potential of poverty-fighting programs such as Head Start, stating, "As the eldest of five children raised in a poor rural community, I lived through my parents' daily struggle to provide for us. It was through programs like Head Start that my family survived. I have a deep appreciation for the work of Head Start CA and the impact it has on California's most vulnerable children and families. I am honored by the opportunity to lead such a powerful organization and make a difference in so many lives."
Melanee's official start date as Executive Director of Head Start California is Monday, July 24, 2023. Under Melanee's capable leadership, we remain committed to advancing our mission of empowering Head Start programs to reach their full potential. As our team is strengthened, so is our association and thus our commitment to working alongside all of you to support families and children across California.