My mother came to the United States with many hopes and dreams. She worked multiple entry-level jobs in order to give us a better life. Therefore, she stressed the importance of education from a young age. She was a single parent that spoke little English but that did not stop her from seeking out opportunities for my siblings and me.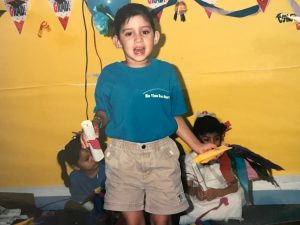 One such opportunity was our local Head Start program, located in Oxnard, CA, that helped me learn social and communication skills, while preparing me to enter grade school. In this program, I was encouraged to play. And through play, I learned. La Maestra Margot, my Head Start teacher, would help set me up for many future successes and become one of my first heroes. With constant encouragement, she created an environment where I could safely learn my first words of English and pick up the necessary skills to thrive in my academic career.
Having grown up in a predominantly agricultural town, in a low-income household and raised by a single parent, the odds were stacked against me. Head Start helped me beat those odds by helping me gain confidence as a learner and giving me a teacher that became a lifelong mentor.
In 2012, I became the first person in my family to graduate from college — with a bachelor's in Animal Science from the University of California, Davis and in 2018, I graduated with a Ph.D. in Biological and Biomedical Science from Cornell University. I am now a postdoctoral research scientist in New York City where I study the mechanisms by which the brain regulates blood sugar with the goal of finding new treatments for type 1 and type 2 diabetes.
I want to sincerely thank my Head Start teacher, La Maestra Margot, and all the other people that make this program possible. I am living proof that Head Start puts children on the path to success! Download the flier of this story.
Submitted by:

Darline Garibay
Head Start Graduate, 1994
Rio Vista Head Start, Oxnard, CA