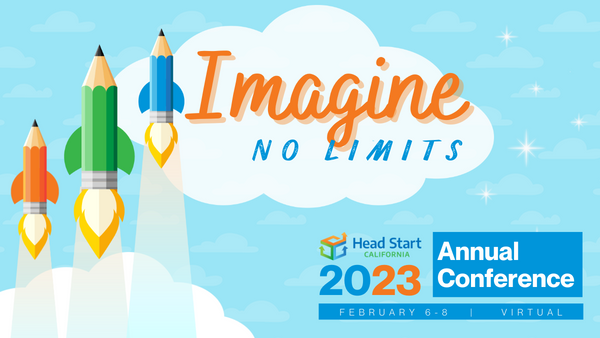 Head Start California would like to congratulate the 2023 Annual Conference planning committee members for their diligent work in selecting the content for the more than 40 sessions for the 2023 Virtual Annual Conference!
This year's planning committee included: Billiejo LaBriola, Sandra Gonzales-Pabon, Kindell Graham, and Threasa Hernandez. The conference committee provides program perspective on training needs, participates in the selection process of workshops, and identifies speakers.
Event Highlights
Monday morning we launched our on-demand pre-recorded workshops and welcomed our first live keynote, Julie Kurtz, Top TIPS To Support Children and Adults in Post-Pandemic Times. A few key takeaways were –
Be aware of our own triggers and emotional state.
Store up restorative energy so that you have energy for your kids each day!
Trivia masters united at the Out of this World Virtual Trivia Afterparty, led by local comedian, Chelsea Bearce. We were welcomed by our Board of Director President, Jodie Keller, in a brief toast. We hope everyone enjoyed their galaxy mocktails. We also heard from our conference Platinum Sponsor, First 5 California's Executive Director, Jackie Wong. Chelsea led us through three rounds of trivia and attendee, Vickie Rodriguez dazzled us with her Out of this World costume. Several prizes were given away, thanks to generous donations from HSC Proud Partners.
On Day Two we welcomed our keynote, Eric Bailey, who brought to our attention the importance of Completely Changing the Conversation About Diversity, Empathy, and Privilege Using Brain Science. Eric took us through a series of interactive polls to walk us through the ideas of the illusion of certainty, how our brain creates and uses bias, and privilege, and how we experience systemic racism. Key takeaways include –
"The only things in life that we can learn are things that we don't yet know." If we know everything, then we can't learn anything!
Our brain creates biases, or mental shortcuts, to quickly make sense of what it's seeing. Biases aren't necessarily bad and sometimes they keep us safe.
On Wednesday, we closed the conference with a presentation from Tiffany Lanier, who taught us how to "Turn your Season of Change into your Season of Possibility." Tiffany reminded us that change requires exchange. The exchange may be shifting into new mindsets, habits, behaviors, and identities to create new outcomes, opportunities and possibilities. A few other takeaways from Tiffany's session are –
Reframe "change is hard" to "change feels hard." The first is definitive and the other leaves room for flexibility.
We can do this through:
Curiosity: Ask yourself "I wonder what's possible here."
Belief: Tap into a new belief system, change your experience and see your behaviors begin to change.
Action: I can't do this becomes I can do this! Sometimes this may require a shift in identity or death of an identity.
Thanks to our generous Platinum Sponsor, First 5 California! First 5 California plays an essential role in shaping and supporting the California's early childhood system. They have been a steady champion for children, and we are glad to be partnering with them, and deeply appreciate their support for this conference.
For the first time this year, HSC hosted Exhibitor showcase sessions at Annual Conference. These showcases were a unique opportunity for our attendees to connect with our conference exhibitors. These 15-minute sessions allowed for exhibitors to host product overviews and share current promotions. Attendees collected code words from each one they attended, and some great prizes were issued!
The HSC staff and planning committee would like to thank each attendee who made the time in your busy schedules to join us for our 2023 Annual Conference! We appreciate your flexibility and willingness to gather virtually despite the challenges it brings, your willingness to continue pressing forward, and all of your efforts to keep serving the children in your community each and every day.
All on-demand sessions and recorded sessions are still available to watch until April 9, 2023. Thank you for seeing past the limits of being virtual this year and participating in our conference.